Advertising Opportunities
CFCA offers advertising opportunities in serval capacities. Whether you would like to reach individuals and companies electronically or in print, we've got you covered.
For more information, please contact Amber Rogalski at amber@cfca.energy.
Put your advertising dollars to work in the many options below: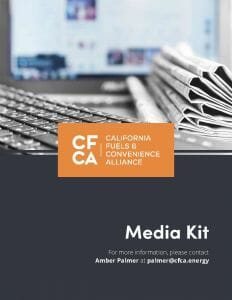 CFCA Fill Up/Friday Weekend Update
Weekly eBlast
Open rate: 20%
Prime listing location: under the Legislative Update section
COST: $700/month
FILE SPECS: 650px by 100px at 150dpi in .JPEG or .PNG format
CFCA Website
Click-thru: 1000/month
Prime locations: Education & Events pages
COST: $1000/6 months
FILE SPECS: 650px by 100px at 150dpi in .JPEG or .PNG format
PFCS Event Guide
Distributed to over 1300 attendees
COST: Varies
Naylor Advertising
Annual Report - once a year
Membership Directory - once a year
Insider - monthly eBlast
COST: Please contact Krys Whildin (krys.whildin@naylor.com) for more information.
Retargeting
CONTINUE TO BUILD YOUR BRAND beyond the our website through audience extension (also known as site retargeting). Studies show that brand awareness through repeat exposure drives purchasing relationships and now you can be omnipresent without having to do anything extreme or technical. With retargeting, your ad is served to www.cfca.energy site visitors as they frequent other sites across the web.